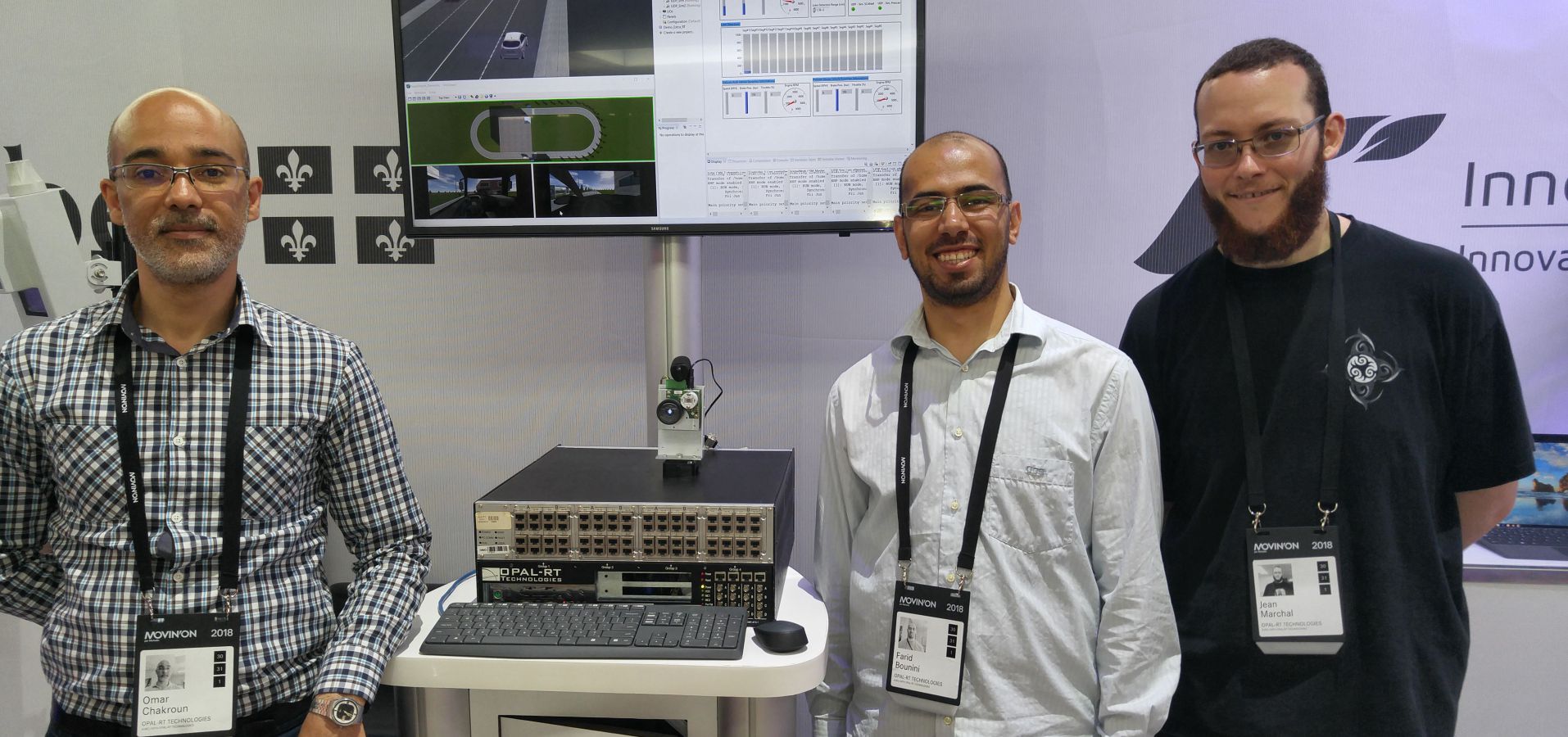 OPAL-RT Technologies Partners with LeddarTech at Movin'On
14 June 2018 — By LeddarTech
During the 2018 Movin'On World Summit on Sustainable Mobility, we at LeddarTech had the double pleasure of sharing a space with OPAL-RT Technologies in the Quebec Atrium booth/Ride&Drive and having our Leddar™ LiDAR technology integrated into their real-time simulation demo for advanced driving assistance systems testing scenarios.
OPAL-RT is a Quebec-based company specializing in real-time power electronics simulation used in automotive, aerospace, power supply and industrial markets. For automotive applications, OPAL-RT provides Tier-1 manufacturers and OEMs with unique expertise in real-time simulation for electric vehicles (EV), battery management and charging stations, and their co-simulation and accelerated-time simulation experience is being used in the development of modern chassis systems and advanced driver assistance systems (ADAS). The company is also currently working on unique simulation systems capable of validating autonomous vehicles and autonomous driving scenarios. These simulations will be used to rapidly and efficiently predict and overcome obstacles at every stage of the development process instead of costly and lengthy track tests.
OPAL-RT's real-time simulation demo featuring Leddar LiDAR was powered by the RT-LAB Orchestra add-on, which is an open and real-time synchronization framework for model-in-the-loop (MiL) and software-in-the-loop (SiL) testing that is suitable for advanced driver assistance systems (ADAS) and autonomous vehicle testing. Orchestra also extends the connectivity capabilities of the company's flagship RT-LAB platform. This platform enables different teams to develop and test co-simulation components—using their own preferred tools—prior to integration of a cohesive co-simulation system. For autonomous vehicle systems, OPAL-RT uses its proprietary platform to interface or integrate systems capable of simulating all onboard vehicle sensors and components for advanced testing and integration in the design and development phases.
In their Movin'On 2018 simulation demo, the OPAL-RT team used its RT-LAB Orchestra add-on to synchronize the various modules running on its RT-LAB platform in real time. The setup consisted of a LiDAR-based hardware-in-the-loop (HIL) scenario using LiDAR representations in conjunction with other vehicle systems and components to monitor and validate speed, brake pressure, throttle and RPM data. In this scenario, the CAN bus was used to interface to Leddar LiDAR and was capable of handling multiple controllers. The communication interface was capable of handling multiple simulators running on the platform, and Leddar LiDAR was used to provide a real-time view of the vehicle's surroundings. This particular development setup made use of a LeddarTech M16-LSR LiDAR module, a PreScan physics-based simulator from Tass International (a Siemens business), an Oktal SCANeR driving simulator, along with Opal-RT hardware and software solutions.
This was the company's first time working with and integrating Leddar LiDAR into its simulation solutions. Omar Chakroun—Intelligent and Connected Vehicles Team Leader at OPAL-RT Technologies, was very excited about how easy it was to work with our technology and signal processing algorithms, commenting: "It took us a good day or two of reading algorithms before we could connect to our targets, but after that it was seamless…we could take whatever we wanted and apply it wherever we wanted."
For more information about OPAL-RT's solutions for ADAS and fully autonomous driving systems, contact Omar Chakroun.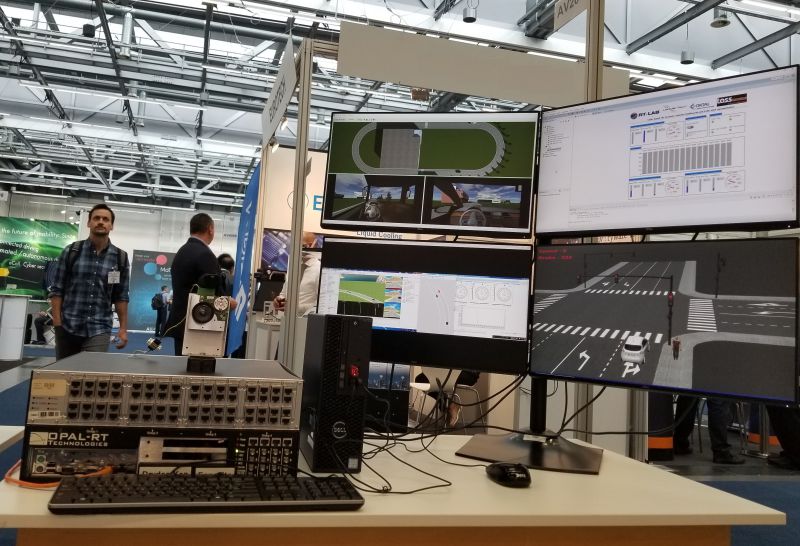 The OPAL-RT team also recently took their platform to Autonomous Vehicle Technology World Expo 2018, which took place in Stuttgart, Germany from June 5 to June 7.