Day One at CES 2018: LeddarTech and Partners Gear Up for Big Unveil at the Leddar Ecosystem Pavilion
9 January 2018 — By leddartechadmin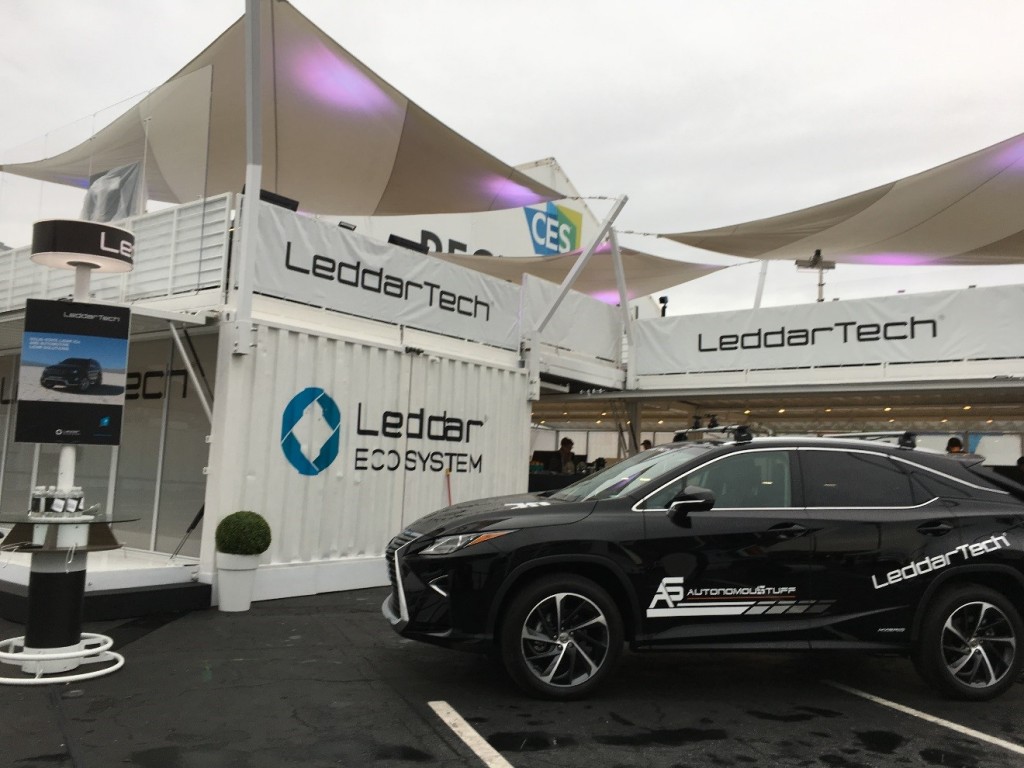 Today at CES 2018 in Las Vegas, LeddarTech is unveiling several recent development achievements related to its automotive LiDAR product roadmap; notably, the industry's first 3D solid-state LiDAR (SSL) system-on-chip (SoC)―the only solution on the market enabling rapid industrialization of SSL 3D flash LiDARs for autonomous driving applications.
LeddarTech's new products on display at the Leddar Ecosystem pavilion demonstrate key achievements and industry firsts in the move toward mass-market automotive LiDARs, including:
• Fully functional SSL sensor samples based on our LCA2 and LCA3 LeddarCore SoC (system-on-chip) and LeddarSP signal processing software solutions that meet performance requirements for levels 1 to 5 of autonomous driving.
• SSL sensors that are based on the Leddar Engine and which meet automotive cost requirements: functional A‑sample 3D solid-state LiDAR sensors have been integrated into engineering samples of our LeddarCore SoCs and Leddar SP software, showcasing automotive-grade solid-state LiDARs solutions leveraging affordable flash LiDAR designs aimed at mass-market deployment.
The LeddarCore solutions have been named a CES 2018 Best of Innovation Awards Honoree in two categories:
Vehicle Intelligence and Self-Driving Technology and Embedded Technologies.
These solutions are being showcased at the Leddar Ecosystem pavilion, which is also playing host to several key Ecosystem partners who supply various world-class components, software, systems and other solutions used in the design and development of automotive LiDAR solutions based on LeddarCore.
Want to learn more about our new LeddarCore solutions or meet our Leddar Ecosystem partners? Drop by the Leddar Ecosystem Pavilion, which is located outside at Tech East, CP-23, right in front of the registration pavilion.
And, for even more details on these groundbreaking automotive-grade solid-state LiDAR solutions, read our technology update titled Delivering on an Aggressive Product and Technology Roadmap in our Automotive LiDAR Magazine, which features Michael Poulin, LeddarTech's General Manager, Automotive Solutions.