A New Phase of Growth for LeddarTech: Interview with the CEO
23 October 2017 — By leddartechadmin
Further to the recent announcement of a major round of financing for LeddarTech Inc., we had the opportunity to meet up with company CEO Charles Boulanger for exclusive insight into this new investment supported by key strategic partnerships—both in terms of company's future and the future of the autonomous driving space in general.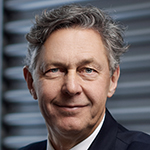 Charles Boulanger, LeddarTech CEO

What is the significance of this investment and how will it impact LeddarTech and the automotive industry at large?
Over the course of the next two decades, automotive transportation will be undergoing vast changes driven primarily by the evolution of autonomous driving. With this market heating up, the race is on to develop advanced technologies supporting the next stages of autonomous driving, and to bring them to market as quickly as possible for large-scale deployment. Although incumbent technologies such as image-sensor cameras and radars are already being leveraged to support autonomous driving capability in its early phases, solid-state LiDAR (SSL) sensing technology is the key enabler for mass production of truly self-driving vehicles. This investment and strategic partnership puts LeddarTech in the driver's seat by strategically positioning it as the leader and reference in SSLs for the automotive industry.
Who are the new strategic investors and what value do they bring to LeddarTech?
LeddarTech has just completed a US$101 million Series C financing round led by OSRAM Licht AG, in addition to Delphi Automotive PLC, Magneti Marelli SPA and Integrated Device Technology (IDT). These large corporations are major players in the international automobile sector in each of their respective domains.
In addition, as part of this announcement we have signed commercial agreements with each one of these new investors, making them dedicated business partners at all levels of the service chain—upstream, downstream and laterally. This financial and commercial backing means that we now have direct and privileged access to the largest automobile OEMs in the industry, in addition to contracts and tangible business opportunities.
Can you provide us with more details about each of these partners?
As major players in the international automotive industry, these investors have unrivaled expertise as well as very high production capacities. Together, their combined capabilities cover the entire value chain for autonomous driving. For instance, IDT is supplier of integrated circuits, Delphi and Magneti Marelli are systems integrators specializing in complex technologies for the most advanced and innovative vehicles on the market, and OSRAM is a leading manufacturer and supplier of optics components.
OSRAM is a multinational lighting manufacturer and leading supplier of automotive lighting. The German-based company has been operating for over 100 years, and currently employs over 25 000 people around the world. The company currently holds some 35% market share in the global LED market.
Delphi is a major producer of automotive parts for passenger and commercial vehicles, specializing in electric and electronic systems, powertrains, and road safety technologies such as driving assistance and autonomous driving solutions. Every single day, Delphi brings some 83 million auto parts to market!
Magneti Marelli specializes in designing and producing high-tech systems and parts for the automotive sector, and as a member company of the Fiat Chrysler Automobiles Group, is the second largest player in the automotive industry. In 2016 alone, it produced some 21 million headlight assemblies and 29 million tail-light assemblies.
Integrated Device Technology, Inc. (IDT) designs, manufactures and markets a vast array of semiconductor solutions for various markets, primarily original equipment manufacturers (OEMs) in the automobile sector.
Why are these companies investing in LeddarTech and its LiDAR technology?
There is a consensus that costly, complex mechanical scanners (such as those deployed on most self-driving prototypes today) are not suitable for large-scale commercial autonomous driving deployments, and that cost-effective SSLs are the technology of choice for such applications. These industry leaders chose to invest in Leddar technology because they know that our solutions are currently the best positioned to leverage the tremendous opportunities offered by LiDAR technology for autonomous-driving applications.
Boasting high sensitivity and a small form factor, LeddarTech currently produces the only SSL sensors capable of meeting the automotive industry's performance requirements and rapidly achieving large-scale production at a competitive price. Our LiDAR solutions offer a high level of integration and customization, allowing our clients to differentiate their offerings and provide different models in their own product lines that are tailored to specific applications.
What are the next steps for LeddarTech further to this announcement?
Very few emerging technology companies have succeeded in making such inroads, and we now have the capital and the market access needed to capture a significant share of the LiDAR sensor market, which is expected to reach $10 billion over the next 10 years.
The new investments will go towards enhancing our ongoing LeddarCore IC program which integrate the Leddar technology into integrated circuits, expanding our R&D and marketing teams and accelerating our development projects with automotive systems manufacturers. We will also be expanding our Quebec City head offices to accommodate the ongoing growth.
These strategic investments represent a huge vote of confidence attesting to the maturity of Leddar technology and the high credibility of our product roadmap, in turn positioning LeddarTech as the definitive reference in solid-state LiDAR and further validating our Tier-1 partnership business model to supply automotive LiDARs to the mass market. This backing has also set us apart from the competition as a key supplier capable of supporting large-scale autonomous driving deployments as early as 2020.